If you've spent even just a little bit of time looking around our site, you'll already have a pretty good idea of what LED digital signage can do for your business. We've already explored some of the key benefits they can offer in a previous post, in which we asked – does digital signage increase business? And in a recent follow-up article, we took a look at how retail businesses can get the most out of their LED screens.
Now though, let's take that one step further. Using LED screens to increase immediate short-term sales is a science and an art in itself, but if you want to foster long-term loyalty from your customers, you'll need to think about how you're going to use your LED digital signage to build relationships with your consumers. Here are five of the best ways to do that!
1. Digital signage can help you introduce your staff and values
As that old adage goes: people don't buy from businesses, people buy from people. Digital signage displays can provide an unmissable opportunity for you to give your company a recognisable human face, by revealing the people who work so hard behind the scenes. According to research from Harvard University, our purchases are driven far more by emotion than logic (whether we realise it or not), and making your brand recognisable is by far and away one of the best ways to get people to engage on an emotional level with your brand. That makes it an excellent way of fostering long-term loyalty.
So when you're thinking about content for your digital displays, it's worth considering featuring some profiles of your staff. Who are they? What are their backgrounds, their passions, their ambitions? How are those passions and ambitions going to help the customer?
On a related note, it's a great opportunity for you to talk about your brand values, and what differentiates you as a business. A chance for you to tell your customers what your priorities are, and how you do things differently. About your approach to provenance, ethics, sustainability, or passion for a certain cause. All are fantastic ways to help you connect more deeply with your customers. Because once the day is done and they've long since gone home, they might forget exactly what you've said – but they'll never forget how you made them feel.
2. Use your digital signage to answer some Frequently Asked Questions
It's no secret that consumers are more likely to buy from businesses who they feel care about them, and listen to their questions and concerns. And there's almost no better way to show you're doing that by answering some of their most Frequently Asked Questions in plain sight, for everyone to see.
There are several key advantages to doing this. Firstly, as we've said, it makes your customers feel valued, as you're clearly listening to their questions and concerns. It reinforces the idea that you're on the ball, being open, honest and proactive, which is a brilliant start to building any kind of customer relationship.
It also has practical advantages, helping both your customers and your staff save time and effort by clearing up common queries, confusions or misunderstandings. That could be, say, by letting them know about any potential allergens in your products, or explaining how to set up a payment plan. It could even be something as simple as directing customers towards the right queue or area to stand in, so that they don't waste their time waiting to get to the front of the wrong line. It's something very small that can end up making a huge difference to customers' overall perception of your customer service.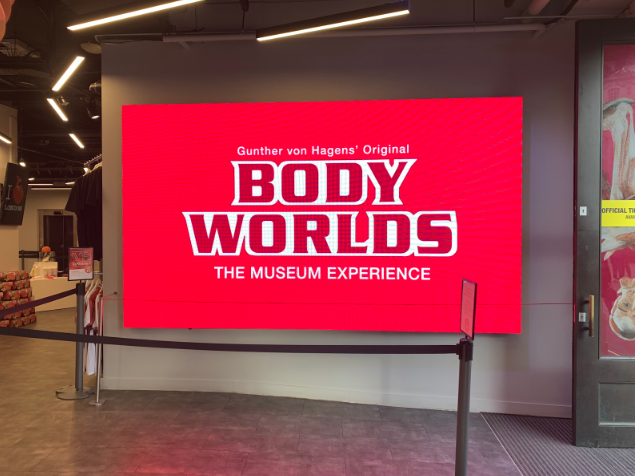 And finally, indoor LED signage can also help you to clear up more general misconceptions about your business or industry, perhaps some less-than-flattering ideas that consumers may have garnered through popular culture. If you run a museum for example, you could use them to correct pervasive historical myths (Thomas Edison did not invent the lightbulb, for example), which may then pique your visitor's interest in a specific display. And that's just one example!
3. Show off your customer reviews
Simply put, customer reviews are one of the single most valuable marketing tools you can have at your disposal. No matter how incisive, creative and memorable that your marketing copy and collateral is, customer reviews will always have one key quality that you'll never be able to replicate: impartiality.
Because customer reviews are made by (and for) total strangers, customers typically see them as more unbiased and therefore trustworthy than any official marketing. In fact, 79% of customers say that they trust online reviews just as much as personal recommendations from friends or family.
That means there are few better ways to building customer trust in your business, making any kind of positive customer review essentially gold-dust for your organisation. And once again, it also reinforces the value that you place on your customers' opinions and feedback, which makes them even more likely to trust you.
4. Invite your customers to connect with you on social media
Social media has become so deeply ingrained in society that customers will actually find it more surprising if you don't have some form of social media presence, irrespective of what platform you choose. Even voluntary organisations tend to have at least a light social media presence, and for larger SMEs and huge corporations it's more or less expected as the norm.
There's a good reason for that – not only is it a brilliant way for you to connect and engage with your customers, but consumers will see it as a form of transparency, too. Most businesses use their social media to fulfil a variety of roles, including customer service touchpoint, marketing channel, and hub for any vital company or industry-wide updates. All this, of course, while continuing to reinforce the personality and tone of voice for your brand.
So if you've been gaining less traction on social media than you'd like, consider connecting with shoppers who are already visiting your store. Connecting with them on social media can help ensure you're able to consistently engage with them, building your audience and following, and ultimately fostering long-term customer relationships.
This is just a selection of some of our favourite ideas here at Scanlite – you may well be working on some of your own! Whatever you've got in mind for your LED advertising displays, we can help you make that vision a reality with an extensive range of digital signage solutions. We know this technology inside out, and exactly how it can be used to achieve your goals as a business. To find out how we can help you, feel free to give us a call today on 01253 302723, or email us on sales@scanlite.co.uk.