2020 WAS a year of trials and restrictions on our daily lives – and a year that many would like to forget in a hurry.
However, for all its demands and burdens, it was another year in Scanlite's four decades long history, and one that will be remembered for a variety of reasons. Like many other family businesses across the country, the coronavirus pandemic brought on strenuous months and new challenges. Here's an insight into how our incredible team took on 2020.
During the first wave of the pandemic, the safety of Scanlite's staff, customers, and partners was immediately imperative. Digital signage was at the forefront of communication with not only the general public, but in individual workplaces such as our own. All the way back at the beginning of March, we used our in-house displays to quickly communicate up to date health and safety information, such as new social distancing guidelines and national restrictions.
It was important in a time of great doubt and anxiety to provide as much helpful guidance as possible, and our quick-to-update digital signage solutions were perfect at displaying up to date information, in easy to digest animations around the workplace, even outside on our exterior display.
Though we had made an impact for our own staff, we wanted to do more for our local community. Although most of our team transitioned to working from home, we were still open and wanted to try and achieve a positive difference in any way possible. It was crucial that our experience in manufacturing high quality LED products was put towards fighting the spread of Covid-19.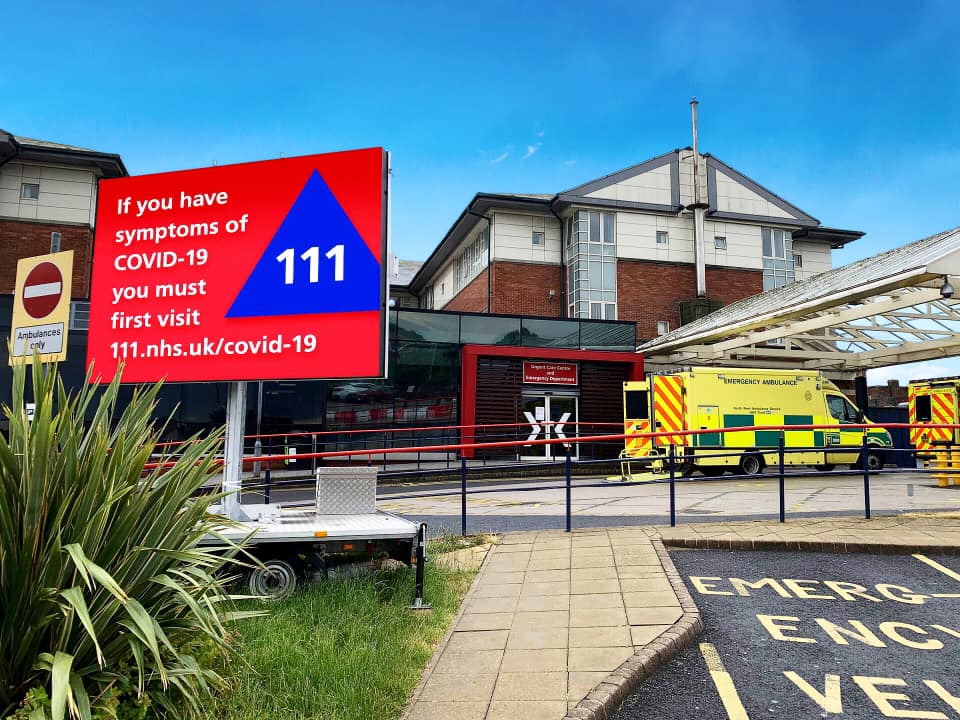 Our HD mobile screen trailer was used to great effect outside Blackpool Victoria Hospital's Accident and Emergency Department. The waterproof P.4mm screen featured a hydraulic lift system, meaning important messaging would be seen night and day, at the most important viewing angles. We worked closely with NHS staff to create and design up-to-date media with urgent announcements on patient information and waiting areas.
These digitally delivered instructions were crucial for informing visitors to the hospital of the constantly evolving pandemic – not to mention reinforcing the message seen across the country: Stay Home, Protect the NHS, Save Lives. The digital screen was also used to keep up morale at a difficult time, thanking the general public for their messages of support and rainbow drawings, featuring a video of NHS staff applauding supporters in response to the national Clap for Carers movement.
Our digital trailer was used with great effect to navigate all different aspects of the pandemic as the situation developed – click here to view hire information.
In addition to large scale displays, our digital signage technology could be used in other, smaller ways. We developed a range of Covid-19 safety machines, including hand sanitiser advertising displays and thermometer displays with in-built facial recognition. It was critical that these solutions were completely contactless, with social distancing and good hand hygiene being the most important guidance to follow in the fight back against the virus.
We also used our social media platforms for small to improve the situation for our followers on Facebook, Instagram and Twitter – we tried to spread gentle lockdown reminders to try and make things a little bit easier for everybody.
Come back to our blog in the near future for Scanlite in 2020: Part Two – detailing how we tackled the summer months and our innovations throughout the year.